Feb 24, 2023
An important update from the NZ Compare team
We have received information from multiple customers that there is someone pretending to be from NZ Compare trying to scam people over email, text message and WhatsApp.
UPDATE: Thursday 10th August 2023
The scammer is also using the email address: nzcompare72@gmail.com
The scammer is also using the phone number: +64 9801 5351, +64 22 033 2144
Attached below is a new email being sent out from the scammer: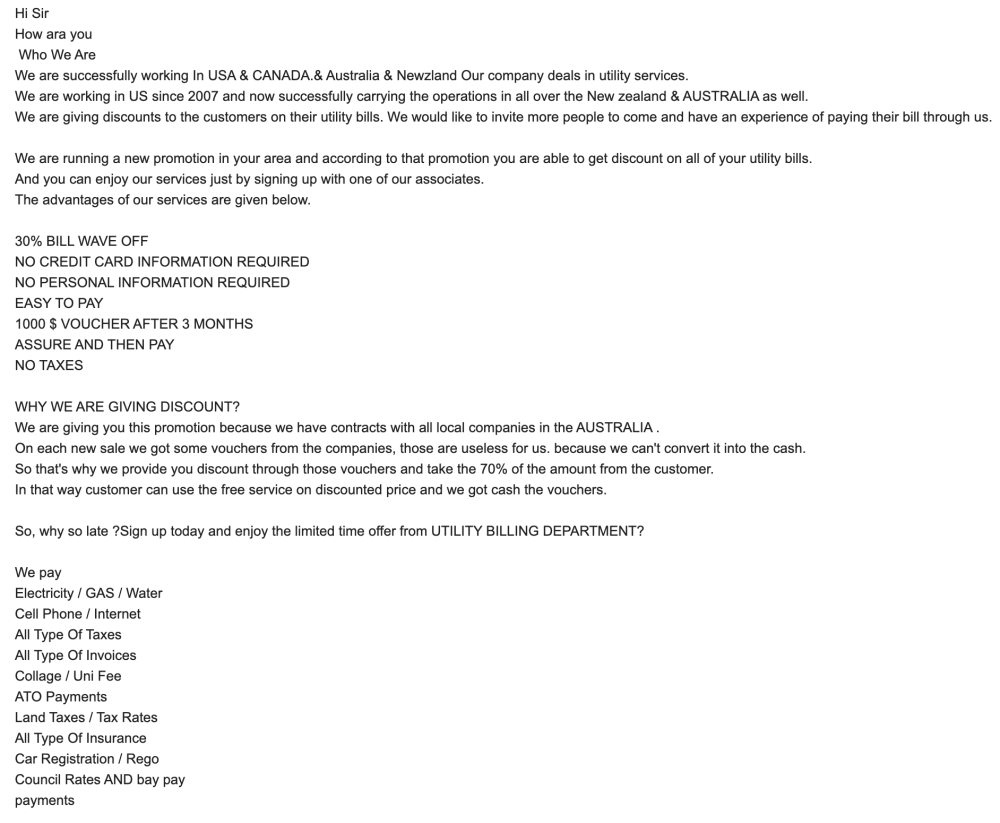 Who is the scammer and what are they asking for?
The scammer has used the names, 'Sameer Ali', 'Rohit', 'Zain Ali' and 'Junaid' in two interactions with customers. They could also be acting under other names (it is unclear at present). They are using the NZ Compare logo as their profile icons. They have contacted customers via email, text message and WhatsApp.
The email address they are using: nzcomparepromtions@gmail.com
The phone number they are using: +64 9889 7969
These are NOT the official contact details for NZ Compare. See below for how to contact us.
From the information we have received, the scammer is telling customers that they are running a promotion in which you will be able to get a discount off your utility bills. They ask for you to supply various personal details.
Attached here is an email from the scammer: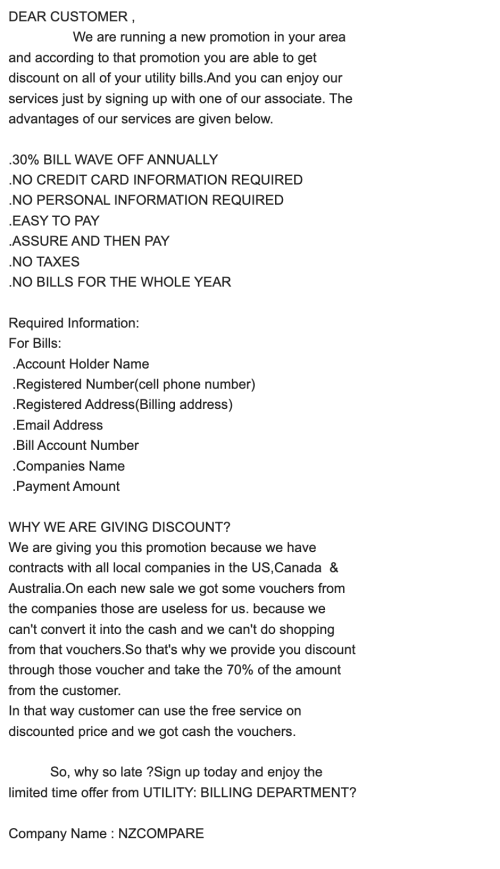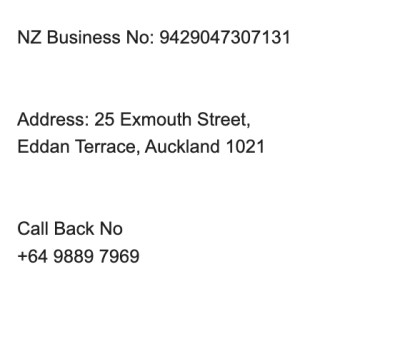 How do I know my conversation is actually with NZ Compare?
These emails and WhatsApp messages have NOT come from anyone at NZ Compare.
The rule of thumb is if you are interacting with one of our friendly staff, our generic email addresses and our staff's direct email address will always end with @nzcompare.com.
Our official phone number is 0508 2COMPARE (0508 226672). If you have talked to one of our comparison consultants and they've left a message for you, you can always call our number back and talk to the person who left the message.
Most importantly, we will NEVER ask you for money.
Please remain vigilant, if an email/message seems fake, fraudulent or likely to be a scam, then it probably is.
Tips to spot a scam
1). The email will usually mention the business name but not in the way it should. In this case the scammer is using nzcomparepromtions@gmail.com, again our email addresses end with nzcompare.com.
2). Typically, the spelling, grammar, language use and overall layout of the communications will be not what you expect from a business.
3). Scammers will usually offer a reward or deal that seems too good to be true. In this instance, they were offering to pay for your entire utility bill (power or broadband bill).
4). If someone you've never interacted with from a company contacts you out of the blue.
5). If any business requires you to urgently transfer them money. Again, NZ Compare will NEVER ask you for money.
How to get help
If you receive any emails/messages/phone calls from the above-mentioned scammer, then please do not respond and instead contact us.
If in doubt, just flick us a call or email and we'll be able to sort things out.
We apologise for any inconvenience or stress this scammer has caused you.
We have escalated this to the authorities as we don't take kindly to someone impersonating our brand and services for personal gain and to cause more stress.
Stay safe!
Email: hello@nzcompare.com
Phone: 0508 2COMPARE (0508 226672)