[lp_form:69:CHECK MY ADDRESS]
What is Gigabit broadband?
Gigabit broadband offers the fastest broadband connection speed available in New Zealand. Gigabit broadband plans were first introduced to New Zealand in 2016, so they are fairly new. If you are looking for a new broadband plan, you may be wondering whether you need a Gigabit broadband plan, and what the pros and cons are. Check out our guide below to help you decide whether Gigabit Broadband is the right option for you.
Do I need a Gigabit Broadband Plan?
Gigabit Broadband plans offer some serious speed. And, if you live in a home with multiple users using online streaming services, gaming, working from home, you will know how important a good connection speed is to a harmonious home! There's nothing worse than your broadband speed slowing down because someone else is streaming.
If you are after the fastest broadband possible, then a full fibre gigabit broadband service is the way to go.  It can handle anything a home user can throw at it, as well as serving the needs of a small or medium business.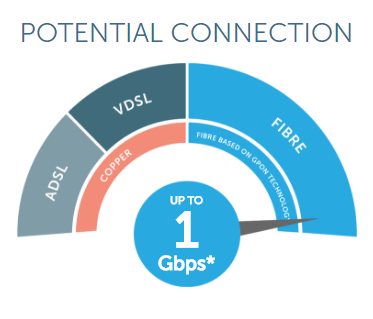 How fast is Gigabit Broadband?
Gigabit broadband plans offer some serious speed - up to 1 gigabit per second (1 Gbps). How much faster is Gigabit broadband than other connection types?
Old school dial up offered an average speed of 56k/s
Copper broadband have (ADSL and VDSL) average speeds up to 10mbs/s
Ultrafast fibre broadband plans have average speeds up to 100mb/s or 200mb/s depending on your plan
Gigabit plans offer speeds up to 1gb/s….that's 1000mb/s!
So, you'll likely never need to worry about buffering ever again – with a Gigabit speed plan you can stream at least five High Definition (HD) videos at the same time and you would still have enough bandwidth to surf the web and send emails.
With a Gigabit Plan you can download an entire HD digital movie (with an average size of 14GB) in a little under 2 minutes, or download a 4MB song in around 0.03 seconds.
If you work or study from home, you can send massive chunks of data and files across the internet, faster than you can write the data to a thumb drive or USB stock.
Pros of a Gigabit Broadband Plan
Stream videos, TV shows and movies in HD online
A main change that you may notice on a Gigabit broadband connection if that you can seamlessly stream high-definition (HD) video content with little to no delays or buffering. We are seeing more and more content available in HD or Ultra HD on streaming services like Netflix, Youtube, Lightbox and Neon. With a Gigabit connection, you'll be able to watch your favourite shows and movies in high definition, even if several people are streaming content in your home - no worries!
Uninterrupted online experience in homes for multiple users 
If you live in a home with multiple people online, you have probably noticed that performance suffers when multiple devices are connected at the same time. This is a common scenario in Kiwi homes across the country as more people are constantly connected to their home wifi on smartphones, TVs, gaming, tablets and more.  With Gigabit broadband, this is less of a concern because the speed and capacity is so much bigger and faster.
Download and upload files incredibly quickly
More and more people are using the 'Cloud' to store increasing amounts of data in their personal and work life. This means being able to upload and download increasing amounts of data quickly and easily. With a Gigabit broadband plan, you can cut these upload and download types significantly to just a few second.
Play video games online with Gigabit fibre
Gaming platforms like X-Box and Playstation are releasing more games with high-quality video content. If you're a serious gamer, you will value a very fast and very stable internet connection with low latency. A Gigabit broadband plan will deliver all of this and more.
[plansrow:588,1639,1626]
Cons of a Gigabit Broadband Plan
You may not need it…yet
If you are a standard user home, then the chances are that you may not need a Gigabit Broadband plan yet. But as technology changes and improves, a Gigabit broadband plan will help you "future proof" yourself for what technology will do in the future. Check out our guide to help you figure out which broadband speed is right for you.
Price
Gigabit Broadband plans have typically been more expensive than slower connection types. But, as Gigabit plans have become more widely available in New Zealand we are seeing the monthly price become more reasonable at around $100 per month. Providers like Slingshot, MyRepublic, Orcon, and Stuff Fibre are offering introductory deals to encourage customers to sign up for Gigabit Plans. Introductory deals start from as little as $20 per month from Slingshot, or $49.99 from Stuff Fibre and then go up to around $100 per month once the introductory period is over.
Is a Gigabit really a gigabit?
It's worth being aware that, as with all broadband plans, the stated speed of 1 gigabit per second is the maximum speed you could receive. The actual speed you receive in practice will depend on your local network. It reality, due to these network overheads, the service you get from your broadband provider should achieve peak download speeds above 900-950Mbps….which is still incredibly fast!
So, is a Gigabit broadband plan for you?
In short, Gigabit fibre offers a pretty awesome high speed service, especially if you live in a home that is hungry for broadband.  And, as it becomes more widely available in New Zealand, we are seeing the monthly price become more reasonable.  You may not need it quite yet, but bandwidth restrictions will be a thing of the past…so if you live in a high user household, we're pretty sure you will want it!