Recent research from Opinion Compare reveals how Kiwis are feeling about the lockdown, the potential impact to their day-to-day lives and general concerns as the New Zealand population enters the unchartered territory of the Covid-19 pandemic.  A nationally representative survey of n=590 New Zealanders 18+ conducted on the 25th March identified it's not the lockdown that's causing concern, it's the ongoing financial impact to their lives that's keeping New Zealanders up at night.
When asked their worry about the both the lockdown and their financial well-being, it's the financial well-being that outstrips any concerns of the lockdown.
Chart: Worry About Lockdown / Financial Well-Being On A Scale of 1-9, Where 1 is Not at all Worried and 9 is Extremely Worried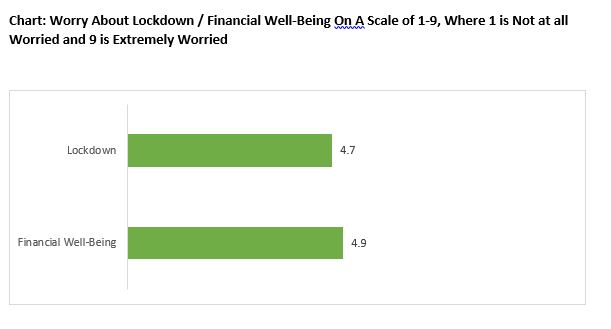 One participant from the snap poll articulated their feelings as "I completely agree with what the Government has enacted and hope that we all stick to it but it's the ongoing ramifications that keeps me up at night.  And while there's no answer to that, it's a worry"
NZ Compare is here to help
It is difficult not to be anxious about the future during this unprecedented time. Senior economists are predicting unemployment to reach 15 per cent, with one warning it could even hit 30 per cent as Covid-19 brings the economy to a shuddering halt. The construction sector estimates that nearly a third of construction jobs are at risk over the next six months due to the coronavirus lockdown.
While we all stay at home to try an combat Covid-19, NZ Compare are still working (from home) to help you make informed decisions and save money. Here are some ways you can start to take control of your finances from lockdown.
1. Make sure you're not paying too much for broadband
Make sure you are on the right broadband plan. Too many New Zealanders are paying more than they should for broadband. Why not take a few moments to check your address with Broadband Compare and make sure you're getting the best deal on broadband. Any savings on your regular bill can take the pressure off your finances. Learn more about changing broadband plans during lockdown here.
2. Consider taking a mortgage holiday
10,000s of people have put in enquiries relating to the Government's newly introduced mortgage holiday scheme. Choosing to defer your mortgage repayments by applying a for a mortgage holiday is a serious financial decision. Learn more about Mortage holiday Applications or Request a free callback from a financial advisor to discuss your mortgage options.
3. Make sure you're not paying too much for power
Take a few moments to visit Power Compare and compare power deal and providers from across New Zealand to find the best provider and the best plan for your needs. If you haven't compared plans recently, you may find that you can make great savings, or access great introductory offers. Compare power plans
4. Earn rewards for sharing your opinion
Join Opinion Compare and be rewarded for sharing your thought and opinions. Complete online surveys about all sorts of topics, earn points and then redeem those points for gift vouchers from top New Zealand brands. Your opinion matters, and it's a great way to get something out of your downtime in lockdown.