Jun 22, 2023
Find out if you're getting value for money.
Introducing National Capital: Your Trusted KiwiSaver and Investment Research Specialists
National Capital is a team of experienced Financial Advisers who specialize in KiwiSaver and Investment research. Since they launched in 2018, they have been dedicated to providing expert guidance to Kiwis, assisting them in making informed decisions about their KiwiSaver savings. To date, we have advised clients on over $95 million of their KiwiSaver investments, helping them secure their financial futures. Sounds good right?!
Based in Auckland, their services extend across New Zealand, serving KiwiSaver clients from all corners of the country, including yours! They firmly believe in the power of personalized advice and strive to deliver tailored solutions to meet the unique needs of each individual.
Want to know if you're getting value for your KiwiSaver?
In the vast landscape of KiwiSaver providers and funds, selecting the right option can be an overwhelming task. We understand that delving into the details of various KiwiSaver funds is not the most exciting way to spend your time. However, as an industry watchdog, NZ Compare have partnered with National Capital the Winners of the "Most Innovative Financial Advisory Firm in New Zealand" Award for 2022 to help make this task simple and stress free!
National Capital take it upon ourselves to hold KiwiSaver providers accountable and provide transparency to New Zealanders planning for their futures with their detailed reporting. With this in mind, take a look at their quarterly KiwiSaver Value for Money Report, it's worth your time and could help you maximise your KiwiSaver results.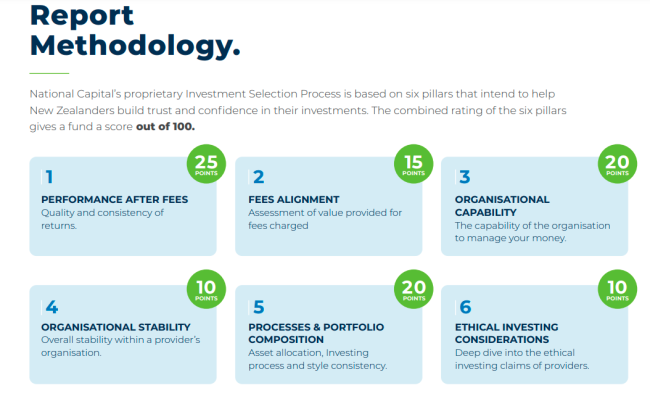 Want to know if your current fund is any good?
Your KiwiSaver journey is a long-term investment in your financial well-being.
If you've now gone through the KiwiSaver Value for Money Report, you'll have valuable insights into the factors that influence the performance of your KiwiSaver fund. It's important to remember that choosing the right fund can have a significant impact on your ultimate KiwiSaver payout!
To take control of your financial future, we suggest you take 10 minutes of your time and take the simple KiwiSaver HealthCheck, it's FREE and the team at National Capital will let you know if your current KiwiSaver fund could actually be performing better for you, including if changing to a different fund and provider would be the next best action to take.
National Capital Director and Financial Advisor, Clive Fernandes, spoke to NewstalkZB about what Kiwis are doing with their KiwiSaver. Fancy listening, click below!