Dec 8, 2021
Vector join as sponsors of the Best Customer Support Award
Vector Metering is focused on providing innovative services to unleash the power of data for the benefit of every energy customer. We are the largest supplier of competitive metering services across New Zealand with more than two million electricity and gas meters under management. This, coupled with our advanced technology platforms, enables us to provide consistent and reliable data services to over 60 energy retailers across Australia and New Zealand. 
At Vector Metering, our success is underpinned by our customer-focused culture, constantly delivering services to ultimately drive the best possible outcome for the end consumer. Our strong customer service principles guide our business to deliver a trusted and reliable service while adding value. These service principles include our "safety always" philosophy, a relentless focus to strive for a positive customer experience, working responsibly and sustainably and a persistent focus on continuous improvement and innovation.
For us, it is so much more than just a meter on a wall. It's about understanding our consumers' energy needs and wants, including their desire to be more sustainable. Consumers are no longer passive "rate payers"– increasingly, they want to take control of their energy consumption with personalised services when and how they want them. Many want to be empowered by the capabilities and benefits of technology, data, and information to make decisions that drive their behaviours and provide flexibility. Consumers want this information to help them make decisions that affect their energy footprints, including integrating in-home technologies, buying an electric vehicle and/or installing alternative energy sources such as solar. Therefore, understanding how data-driven metering solutions, including the role smart meters, can contribute to deliver on consumers' and consumers' energy needs are the essence of what we aim to deliver.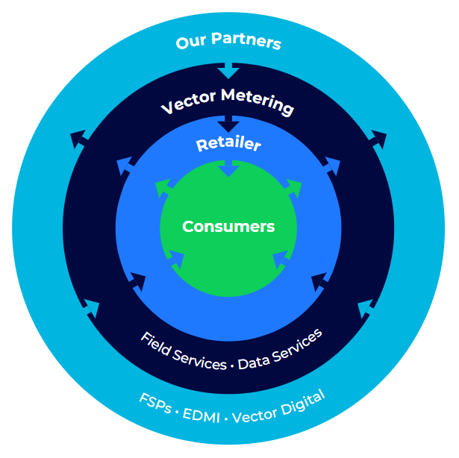 We recognise the needs of our customers to deliver products and services to meet the ever-increasing demands of their consumers. Smart metering data solutions are a critical building block to enabling a new energy future.
We are actively launching new initiatives to drive the enablement of a new energy future through:
Laying the foundation for future innovation for our customers, through developing an IoT ready platform with faster processing speeds, better responsiveness and added capacity. By enabling flexible real time data services consumers will be able to make informed energy choices as and when they want.  
Our modem replacement programme will upgrade approximately 1.1 million electricity meters with 4G modems over the next three years. This upgrade futureproofs our metering technology to enable us to provide services to our customers now and into the future.
The provision of smart gas metering services. Vector Metering is currently deploying smart gas meters across New Zealand and delivering gas consumption data to retailers on a daily basis. This is enabling our customers to provide their consumers with access to more data more often about their gas usage, giving consumers the ability to make more informed energy choices. The advanced gas data service is the first on the New Energy Platform developed under our strategic alliance with Amazon Web Services.
Our success is not ours alone. We have grown our business organically by partnering with our customers, our suppliers, and our field service providers. We are a long-term investor and it is deeply engrained in our culture to collaborate and partner with our customers to deliver the services they need to meet and exceed their consumer's expectations.
"We are proud to be a sponsor of this prestigious event, focused on bringing together the best companies in our industry and particularly the customer services award which is very close to our heart." Sarah McHardy, General Manager Customer, Vector Metering.
We are excited about the changing energy landscape and the challenges we face as an industry to unleash the power of data.
For more information on Vector Metering visit www.vectormetering.com